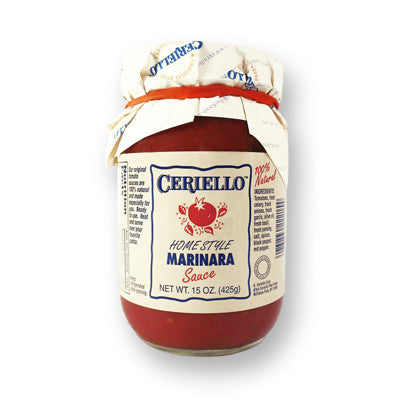 Ceriello Homemade Marinara Sauce
Original price
$ 4.79
-
Original price
$ 95.88
We have been making these sauces in our store kitchen for over 20 years--hand-stirred and hand-filled in heat-sealed jars.  We use only Italian-grown San-Marzano Style tomatoes, fresh produce and top-quality spices.
Ceriello's Marinara sauce begins with fresh Italian plum tomatoes, crushed by hand and then seasoned with herbs including fresh parsley & basil, and then simmered slowly to blend the flavors. It's delicious when served with stuffed pastas like ravioli, manicotti & stuffed shells.
Our kitchen is NY State inspected and USDA inspected. Sealed jars are shelf-stable for 2 years and good in the refrigerator, after opening, for about a week. A 15oz jar is good for about one pound of pasta (3-4 people). A 30oz jar for about two pounds (7-8 people).

Vegetarian. No sugar, wheat, or nut products added, though we are not an allergen-free environment.
Use Discount Code "CASE" take $1 off each bottle of dressing or sauce when you buy 12.
*Discount already included on whole case purchases*