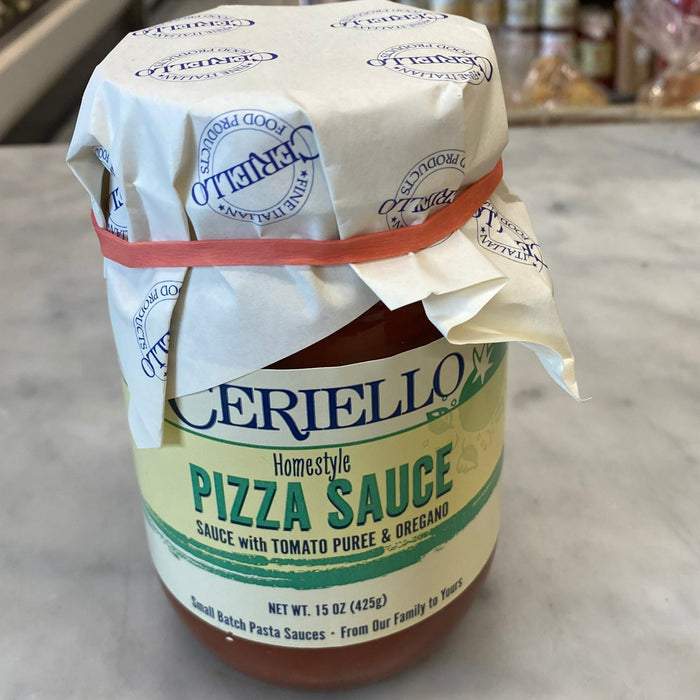 Ceriello Homemade Pizza Sauce
Original price
$ 4.79
-
Original price
$ 47.88
We have been making these sauces in our store kitchen for over 20 years--hand-stirred and hand-filled in heat-sealed jars.  We use only Italian-grown S, an-Marzano Style tomatoes, fresh produce and top-quality spices.

A smooth sauce with the distinctly herbal touch of oregano, this sauce is great for your homemade pizzas, of course, but it's equally good on steak pizzaiola, in eggplant parmesan, or for dipping mozzarella sticks. If you like our Spaghetti Sauce, this is it's bolder cousin.
Our kitchen is NY State inspected and USDA inspected. Sealed jars are shelf-stable for 2 years and good in the refrigerator, after opening, for about a week. A 15oz jar is good for about one pound of pasta (3-4 people). A 30oz jar for about two pounds (7-8 people).

Vegan. No sugar, wheat, or nut products added, though we are not an allergen-free environment.
Use Discount Code "CASE" take $1 off each bottle of dressing or sauce when you buy 12.
*Discount already included on whole case purchases*